The World's Very Fastest Wheel!
Seismic's 85mm Speed Vent
Standup Downhill – Guinness WR: 91.17MPH / 146.73KPH
Street Luge – Guinness WR: 101.83MPH / 163.88KPH
Long-Distance Push / Pump (LDP) – Records for Mile (3:23.5), Marathon (1:30:50), and 24-Hour Ultra (313.9 miles)!

Perfect balance of properties for top speed down hills and max mileage on LDP treks.
Huge 85mm diameter brings speed and momentum to beat the pack on all straightaways!
Surprisingly quick, smooth, and agile handling for its size, even through hard corners.
Edges and bearing offset designed for race-style grip; hub engineered for weight-reduction and energy return. In a class by itself!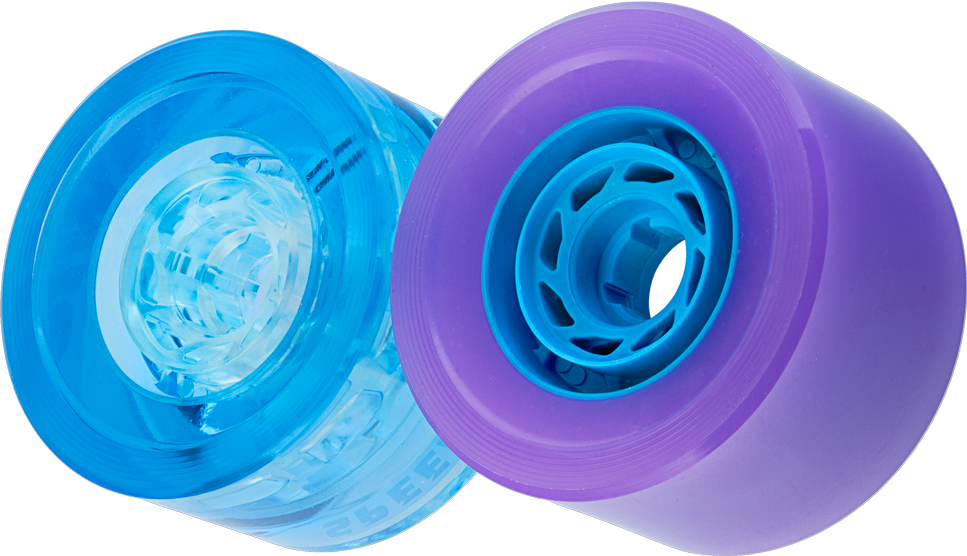 Available in THREE proprietary formulas –
Defcon™: Guinness WR speed • long-lasting grip • slow, consistent wear
BlackOps™: excellent balance of speed, grip, and durability • comfortable and predictable
Premium Clear™: the best beautiful clear urethane on the market • plush, fast, and grippy
The EC {Energy Conversion} Hub
• The original tall, wide hub: 57mm tall by 37mm wide
• Super-tough 85D fiber-reinforced thermoplastic
• Saves weight, adds quickness and agility of a smaller wheel.
• Unique inside-edge hollow enhances rebound.
• Robust mechanical lock with urethane