THE AARON HAMPSHIRE GENOME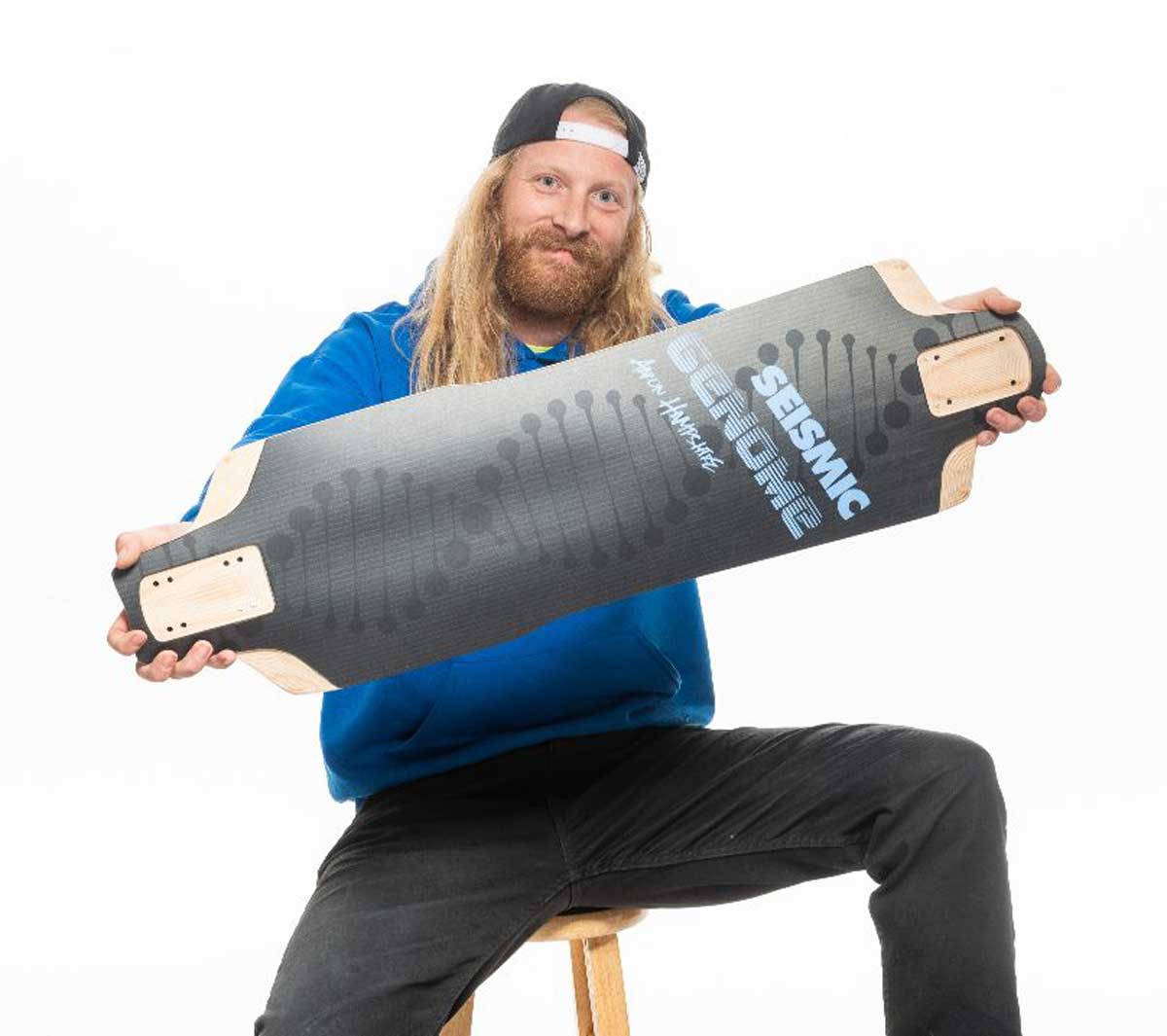 PRO MODEL RACE BOARD AVAILABLE NOW!!
34″ x 9.25″ (86.5 cm x 23.5 cm)
The brainchild of Seismic Pro Aaron Hampshire, the Genome is a modern thoroughbred racer from tip to tip. We spared no effort in painstakingly evolving and refining the deck's shape and contours at Seismic headquarters in Boulder, Colorado. For meticulous handcrafted manufacturing, we turned to the Rocket Longboards factory in the heart of the Swiss Alps.
A 7-ply Canadian Maple core sandwiched between two bi-axial layers of high-grade Carbon cloth makes the Genome RACE STIFF. The gradual 0.64″ (1.62 cm) elliptical concave is both comfortable and responsive. Ergonomic wheel well flares – optimized separately for the front vs. rear foot – add leverage and control.They're milled on the underside, too, adding clearance for wheels up to 80mm tall.
A mellow W synergizes with the rear flares for an unprecedented locked-in feeling while tucking, sliding, and cornering. A 0.25″ (0.63 cm) front-loaded Rocker combines with a 5mm-deep, 2-degree flush-mount at the nose to make for an ultra-responsive deck with low ride height.

• Front-loaded Rocker with 0.64″ (1.62 cm) elliptical concave
• Ergonomic wheel well flares (milled on the underside)
• 5mm-deep, 2-degree flush-mount at the nose
• 0-degree flush-mount at the tail
• Graphic on bottom
• Not pre-gripped
• Weight 4.41 lbs. (2.0 kg)