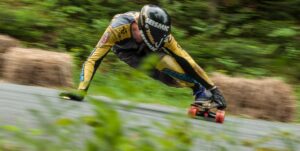 1. Nick Name: A-Swag
2. Age: 24
3. Top 3 pizza toppings: Bacon, Jalapeno, Pineapple
4. Margarita or Rum n' Coke: Whiskey Ginger or Gin & Tonic
5. Favorite Superhero: Goku
6. Brunette, Blonde, or Redhead: Blonde obvi
7. Sponsors: Jati Boards, Seismic (wheels, bearings, and griptape), Boardlife Denver Shop, Venom bushings, Rogue Trucks, Foothills Pedorthics, Ridersfly Soles, and Crema pucks.
8. Favorite Skating (place, country, state city): Downhill of course… In Europe; Norway, Austria, France, and Switzerland. In North America; Colorado and California.
9. Favorite people to skate with: all the local Colorado riders. we have the same mindset, get to the bottom of the hill fast!
11. Real Favorite Skate Film: Eat Shit
12. Superpower: Bacon
13. Vehicle of choice: if it were up to me, 69′ Dodge Charger R/T
14. Best thing about Boulder,CO? This is home right now, Hip college town with good food, incredible hills with terrible pavement, plenty of good breweries, and just so happens to be the location of the Seismic Headquarters!
15. Wheel of choice: 76mm Hot Spot in either 77a BlackOps or 77a Defcon depending on the course.
16. How fast: super fast.